Leadership Talks -
Conversations with Visionaries Series
Welcome to "Leadership Talks: Conversations with Visionaries," the podcast where we delve into the minds of today's foremost leaders. Join us as we explore their unique insights, strategies, and personal journeys that have shaped them into the visionaries they are today. Each episode is a treasure trove of wisdom and inspiration, designed to empower you on your own leadership journey. Whether you're an aspiring leader or a seasoned executive, you'll find valuable takeaways to help you thrive in your leadership role. Tune in and unlock the secrets of successful leadership!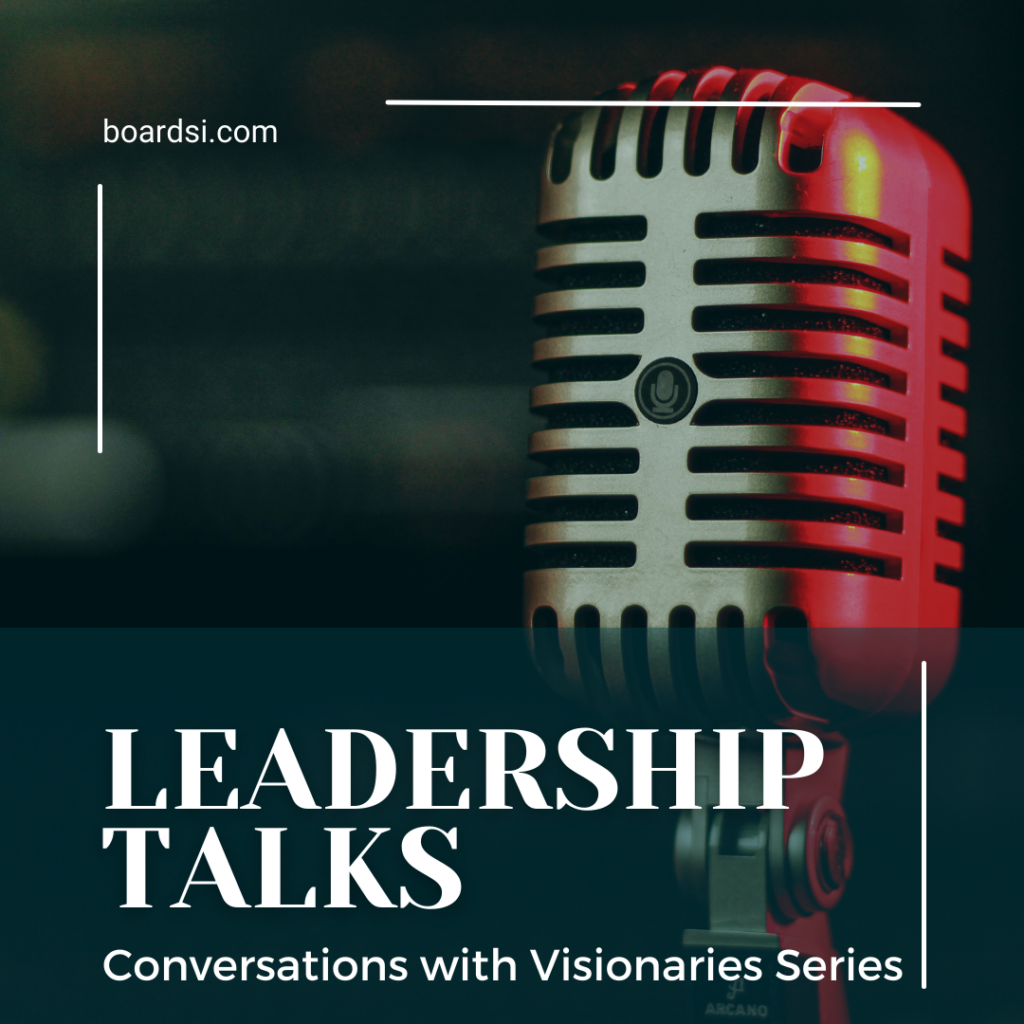 For any accomplished C-level executive, being featured on the Boardsi podcast show is an opportunity to share their wealth of experience and insights with a global audience of executives, impacting hundreds of thousands of professionals worldwide. It's a platform where they can showcase their leadership journey, offer invaluable advice to aspiring leaders, and discuss the evolving landscape of executive roles and board memberships. Beyond that, appearing on the Boardsi podcast highlights their prominence in the executive community and their commitment to professional growth. In essence, being featured on the Boardsi podcast is not just an honor; it's a strategic move to extend their influence, impact, and reach in the ever-changing world of executive leadership. 
"Leadership is not just about achieving success; it's about the journey, the lessons learned, and the wisdom gained along the way. Through our podcast, we aim to shed light on the remarkable stories of executives who have navigated the complexities of leadership. Together, we'll uncover the principles, strategies, and insights that drive success and inspire the next generation of leaders."
Boardsi is at the forefront of transforming executive leadership and board recruitment. With a mission to connect exceptional executive talent with premier board positions, Boardsi has emerged as the go-to platform for professionals aiming to make a significant impact in the corporate world. Our dedication to bridging the gap between accomplished executives and coveted boardroom opportunities has solidified our reputation as industry leaders.
Unveiling Leadership Stories
We understand that behind every successful executive is a remarkable story filled with wisdom, challenges, and triumphs. That's why we're thrilled to introduce our new podcast series, where we dive deep into the journeys of prominent leaders. This series is dedicated to executives, their experiences, and the invaluable lessons they've learned along the way.
Fostering a Community of Leadership
At Boardsi, we believe in the power of sharing knowledge and experiences. By featuring executives on our podcast, we aim to create a vibrant community of leadership where aspiring leaders can gain insights, guidance, and inspiration from those who've already walked the path. We're committed to showcasing the diverse perspectives, strategies, and visions that have shaped these leaders' careers.
Empowering Aspiring Leaders
Our podcast series is not just about celebrating success; it's about empowering the next generation of leaders. We want to equip emerging executives with the tools, knowledge, and inspiration they need to reach the pinnacle of their careers. By featuring seasoned executives who have blazed trails, we hope to light the way for others to follow.
Join us on this exciting journey as we uncover the untold stories of executives, gain wisdom from their experiences, and foster a thriving community of leadership. Together, we'll explore the multifaceted world of executive leadership, one inspiring story at a time.
Welcome to a special trailer of 'Leadership Talks – Conversations with Visionaries.' Dive into the inspiring journey of Bruce Cardenas, a beacon of leadership, resilience, and authentic connection. From the rigorous paths of the U.S. Marine Corps to the innovative realm of Quest Nutrition, Bruce exemplifies passion, perseverance, and a profound impact. Born in Somerville, New Jersey, his leadership saga spans the Marines, the LAPD, and entrepreneurial ventures that paved the way for his pivotal role at Quest Nutrition. Envisioning it not just as a business, but a movement, Bruce propelled Quest to global acclaim. Join us as we uncover Bruce's leadership ethos, his transformative experiences, and his vision for a connected future. Stay tuned for an enlightening conversation with Bruce Cardenas on 'Leadership Talks.
Martin Rowinski, an accomplished entrepreneur, CEO, and motivational speaker, embodies the American Dream with an extraordinary life journey. Born in Warsaw, Poland, Martin's early years were shaped by the challenges of a communist regime. His pursuit of the American Dream led him and his mother on a transformative odyssey that took them through Italy before finally arriving in California after nine grueling months. Martin's appreciation for the freedom of speech and choice in the United States ignited his passion for entrepreneurship from a young age.
With over 25 years of experience in the technology and financial sectors, Martin currently serves as the CEO of Boardsi. Under his visionary leadership, Boardsi has become a pioneer in connecting top-tier executives with premier board positions. In 2023, Boardsi achieved the esteemed honor of being named an Inc. 5000 company, a testament to its remarkable growth and impact on the industry.
Martin Rowinski is also an accomplished author and motivational speaker. His best-selling book, "The Corporate Matchmaker," has received acclaim for its insights into executive recruitment. His expertise has led to features in prominent publications such as Forbes, Entrepreneur, FastCompany, NASDAQ, Bloomberg, CEO Today and Inc. Magazine, where he continues to share his valuable knowledge with a global audience.
Furthermore, Martin's unwavering commitment to excellence in the business world has earned him the prestigious Albert Nelson Marquis Lifetime Achievement Award. This accolade acknowledges his profound contributions to the industry and his enduring dedication to driving positive change.
"Every day, I'm reminded of how thankful and blessed I am. Giving back, learning, and striving to become a better leader is not just a personal journey; it's an opportunity to inspire others. Through this podcast, we aim to share the wisdom and experiences of remarkable leaders, in the hope that their stories will kindle the flames of growth and leadership in all those who listen."