Empowering Connections for Board Opportunities
Bridging Executives and Companies in Pursuit of Effective Board Leadership
Welcome to Boardsi, the premier platform connecting executives and companies in their pursuit of board opportunities. Whether you are an accomplished executive seeking board positions or a company searching for exceptional board members, Boardsi is your trusted partner in facilitating these connections. Join us today and navigate the path to board excellence with confidence.
At Boardsi, we understand the unique skills and experiences that executives bring to the table. We recognize that transitioning into board roles can be a transformative career move, allowing you to leverage your expertise and contribute to the strategic direction of organizations. Our platform is designed to empower you to take the next step in your professional journey.
By joining Boardsi, you gain access to a vast network of companies actively seeking board members. Our platform showcases a wide range of industries, from established corporations to exciting startups, offering you a diverse selection of board opportunities. We believe in the power of connections, and our streamlined process ensures that you are matched with organizations aligned with your expertise and interests.
With Boardsi, you can confidently explore board positions, knowing that our team is dedicated to your success. Our comprehensive resources provide valuable insights and guidance on board governance, best practices, and emerging trends. We also offer personalized support, helping you refine your board profile, enhance your board readiness, and navigate the complexities of the board recruitment process.
Building a strong and effective board is crucial for the success of any organization. At Boardsi, we recognize that finding the right board members who bring the necessary skills, experience, and diversity can be a challenging task. That's why we are here to simplify and optimize your board recruitment process.
With Boardsi, you gain access to a curated pool of highly qualified executives actively seeking board positions. Our platform enables you to efficiently search for candidates who align with your company's unique needs and industry focus. We understand the importance of finding board members who can contribute valuable insights, challenge the status quo, and drive strategic decision-making.
Our team at Boardsi is committed to understanding your company's specific requirements and facilitating meaningful connections. We leverage our expertise and network to ensure you have access to a diverse talent pool, allowing you to build a well-rounded and high-performing board.
Whether you are a company seeking board members or an executive looking for board opportunities, Boardsi is the trusted platform that brings both sides together. We foster connections that fuel growth, innovation, and success in the boardroom.
Join Boardsi today and unlock a world of opportunities in board governance. Together, let's shape the future of leadership and governance in the corporate world.
Founded in 2016, Boardsi has emerged as the premier platform revolutionizing executive-level networking and partnership solutions. With a relentless commitment to excellence, we have experienced remarkable growth and established ourselves as industry leaders.
At Boardsi, we empower executives and companies by bridging the gap between top-tier professionals and board-level opportunities. Through our extensive network, we facilitate transformative collaborations that drive personal and organizational success. Our strategic partnerships with the VC community enable us to connect executives with innovative startups, fostering dynamic and mutually beneficial relationships.
Furthermore, we excel in creating corporate partnerships that deliver impactful results. Leveraging our expertise and industry insights, we help companies forge connections with top talent, enabling them to unlock new growth opportunities and drive strategic initiatives forward.
By amplifying connections, fostering collaboration, and leveraging our extensive network, Boardsi propels executives and companies to new heights of achievement. Join us and unlock your full potential, harness the power of executive empowerment, and forge meaningful connections that drive your success in the dynamic business landscape.
"Boardsi is about empowering exceptional boards for transformative success."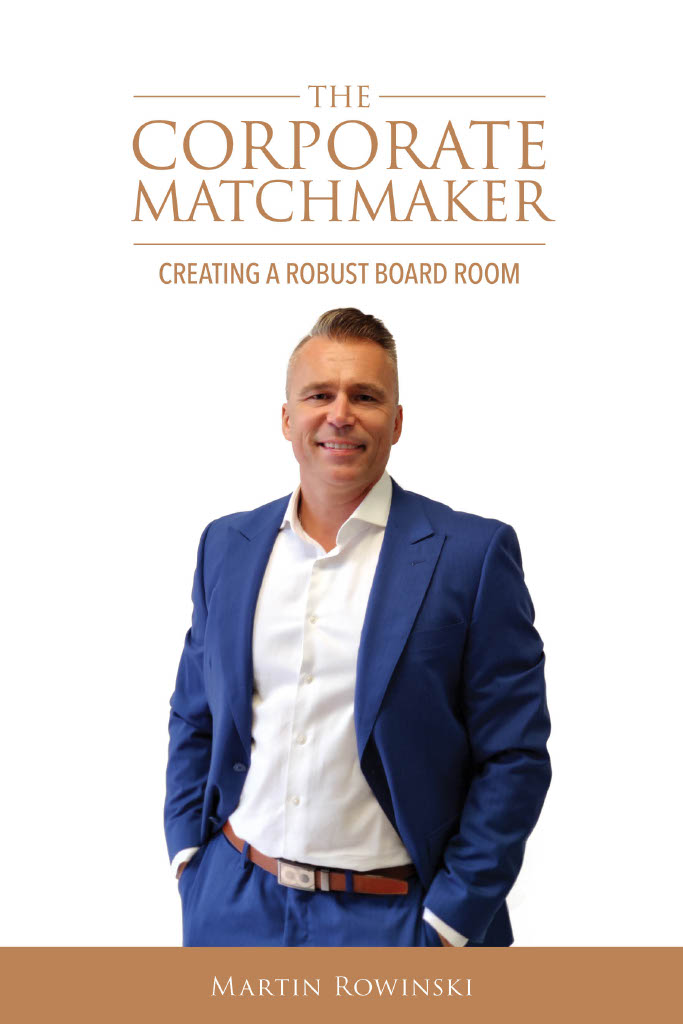 Explore the captivating world of Martin Rowinski, a renowned author and USA Today best seller. Delve into his groundbreaking book, "The Corporate Matchmaker," as he unveils invaluable insights and strategies for navigating the corporate landscape, fostering meaningful connections, and unlocking professional success. Discover the secrets to finding the perfect corporate match and propelling your career to new heights.

Link to book on Amazon: The Corporate Matchmaker